Back to News
Stellus Capital Management, LLC Provides Second Lien Financing to Support the Add-on Acquisition of Numet by Bromford Industries
Dec 11, 2019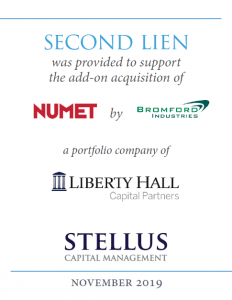 Houston – TX, December 11, 2019 – Stellus Capital Management, LLC ("Stellus") announced today that its affiliates provided second lien financing and an equity co-investment in support of Bromford Industries Ltd.'s ("Bromford" or the "Company"), acquisition of Numet Machining Techniques ("Numet"). Numet is a U.S.-based provider of aerospace engine machined components requiring complex geometries and exotic alloys. Numet supplies many of the key leading aerospace engine platforms, including the GTF, F135, PW4000, and LEAP, and its top customers include Pratt & Whitney, GE Aviation and the U.S. Department of Defense.
Bromford is a leading supplier of complex, close tolerance engine components, fabrications and assemblies for the global aerospace, defense and power generation industries. Bromford was acquired in March 2016 by Liberty Hall Capital Partners ("Liberty Hall") to serve as the foundational asset for the firm's strategy to build a diversified engine component supplier through organic investments and strategic acquisitions. Numet represents Bromford's third acquisition following the acquisitions of AeroCision LLC in March 2018 and Accrofab Limited in June 2019.
"The acquisition of Numet marks a critical step in our overall plan of designing a 'new' Bromford as we transform
the company into a leading, global supplier of aerospace engine machined and fabricated components and
assemblies," said Rowan Taylor, Liberty Hall's founding and Managing Partner.
Doug Bollermann, Managing Director of Stellus, added "We are excited to partner with Liberty Hall again and
support their investment in Bromford. We believe the acquisition of Numet is accretive to Bromford's exceptional
platform and will assist Bromford and Liberty Hall's ongoing growth and performance initiatives."
For Inquiries Related to this Press Release, please contact:
Doug Bollermann
(704) 409-3335
dbollerman@stelluscapital.com