Back to News
Stellus Capital Management, LLC Provides Unitranche Financing in Support of CIP Capital's Acquisition of Sales Benchmark Index
Feb 04, 2020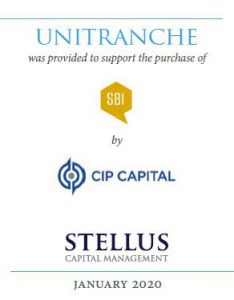 Houston – TX, February 4, 2020 – Stellus Capital Management, LLC ("Stellus") announced today that its affiliates provided senior debt financing in support of CIP Capital's ("CIP") investment in Sales Benchmark Index, LLC ("SBI" or the "Company"), a leading management consulting firm exclusively focused on revenue growth.
Founded in 2006 and based in Dallas, Texas, SBI provides consulting, insights, research and advisory solutions, and
access to its own benchmarking data to enterprise clients and private equity firms across North America and Europe. The Company goes to market using the Revenue Growth Methodology, a unique management method that helps clients accelerate their rate of revenue growth. SBI assists its clients by aligning the functional strategies of sales, pricing, marketing, product management, and human resources to the external marketplace.
Benchmarking allows SBI's clients to differentiate from their competition by getting access to emerging best practices from the top sales and marketing leaders.
"We appreciated Stellus' ability to work quickly and efficiently in support of a successful and timely transaction process," said Mike Grady, Principal at CIP Capital, adding, "We look forward to continuing our partnership with the Stellus team."
Doug Bollermann, Managing Director at Stellus, added, "We are excited to partner with CIP and the SBI team. We
believe the Company's innovative, proven business model, experienced management team, and supportive
financial sponsor position SBI well to achieve its goals for the business' next phase of growth."
For Inquiries Related to this Press Release, please contact:
Doug Bollermann
(704) 409-3335
dbollerman@stelluscapital.com