Back to News
Stellus Capital Management, LLC Provides Unitranche Financing in Support of Lynx FBO's Purchase of FTC FBO.
Oct 16, 2019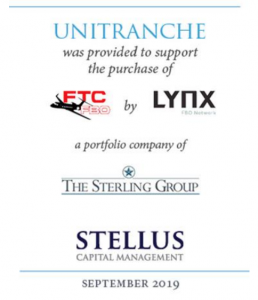 Houston – TX, October 16, 2019 – Stellus Capital Management, LLC ("Stellus") announced today that its affiliates provided senior debt financing and an equity co-investment in support of Lynx FBO Network's ("Lynx" or the
"Company") acquisition of the assets of FTC FBO, a full-service fixed-based operator (FBO) at the Morristown Airport in Morristown, NJ. The Morristown Airport is conveniently located just 27 miles west of New York City and provides fast and convenient travel into New York City. Lynx is a portfolio company of The Sterling Group ("Sterling") and continues to seek acquisitions to grow its national network of FBO locations.
Headquartered in Houston, TX, Lynx is a rapidly growing network of FBOs in the general aviation industry with eight locations across the U.S. The Lynx team is comprised of industry veterans who have worked together building FBO networks over many years, serving in management roles at numerous large FBO networks including Landmark Aviation, Atlantic Aviation and Trajen.
"We are excited to partner with the Stellus team on another transaction. We appreciated the flexibility of Stellus' proposal and an efficient deal execution as we continue to build out Lynx FBO network," said Scott MacLaren, a Managing Director of Sterling.
Gavin Roseman, Managing Director at Stellus, added, "We are grateful to have the opportunity to partner with Sterling and Lynx. We believe Lynx is a unique platform with eight strategically located FBOs across North America. Stellus looks forward to our partnership with the Lynx management team and Sterling as the business continues to add scale to its network through additional acquisitions."
For Inquiries Related to this Press Release, please contact:
Gavin Roseman
(713) 292-5421
groseman@stelluscapital.com