Back to News
Stellus Capital Management, LLC Provides First Lien Financing in Support of Unicat Catalyst Technologies' Acquisition of Magma Group
May 25, 2021
Houston – TX, May 25, 2021 – Stellus Capital Management, LLC ("Stellus") announced today that its affiliates provided first lien financing and an equity co-investment to support the acquisition of Jemmtec Limited (dba Magma Group, "Magma") by Unicat Catalyst Technologies ("Unicat"), a portfolio company of White Deer Energy ("White Deer").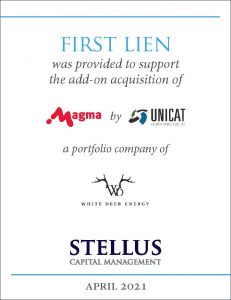 Unicat, founded in 2000 and located in Alvin, TX, is a leading global provider of heterogeneous catalyst products and related services. With over 200 unique catalyst products, Unicat has consistently provided its customers with innovative solutions. In addition to its product portfolio, Unicat provides on-site technical support to assist its customers worldwide.
Magma, founded in 2009 and located in the United Kingdom, is a leading global provider of specialist ceramics, innovative catalyst technology, and related services. Magma has four manufacturing facilities in the UK and one in Vietnam, along with a fully equipped catalyst research and development facility in the UK. Together, the combined Unicat and Magma business will offer vertically integrated global manufacturing and distribution of innovative catalyst and ceramics products and services for the refinery, syngas, chemical, steel, agriculture, and green energy industries.
Meghan Leggett, Principal at White Deer, said, "We are excited to partner with the Stellus team as we expand the Unicat platform. Magma is a transformative acquisition for Unicat, and we believe by combining Magma's manufacturing technology with Unicat's product portfolio and sales network we will support growth in industrial activities across the U.S. and internationally."
Colin Baker, Managing Director for Stellus, added, "We look forward to growing our relationship with White Deer and the Unicat and Magma management teams. Unicat's acquisition of Magma creates a strong platform with a diverse portfolio of products and provides capabilities in both sales and production to serve a global customer base."
For inquiries related to this Press Release, please contact:
Colin Baker
(713) 292-5411
cbaker@stelluscapital.com