Back to News
Stellus Capital Management, LLC Provides Financing to Support the Merger Between Onpoint Industrial Services and CertifiedSafety
Apr 20, 2021
Houston – TX, April 20, 2021 – Stellus Capital Management, LLC ("Stellus") announced today that its affiliates provided senior debt financing in support of the merger of Onpoint Industrial Services, LLC ("Onpoint" or the "Company") and CertifiedSafety, Inc. ("Certified Safety"), a Texas-based safety solutions provider. Onpoint is an existing portfolio company of The CapStreet Group, and Certified Safety is an existing portfolio company of HCI Equity Partners.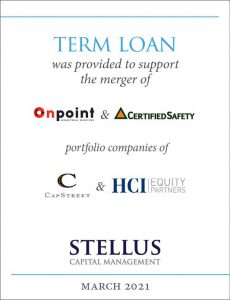 Onpoint offers a unique set of services designed to facilitate the safe and efficient flow of people, materials, and equipment for routine maintenance, turnarounds and capital projects. By applying people, process, and technology, Onpoint satisfies every logistics requirement of these complex activities.
Certified Safety, with its 20-year history in providing leading-edge safety solutions to the refining and petrochemical industries and its exceptional project controls professionals, is a natural fit with Onpoint's current scope of offerings. The merger positions the combined business as an industry leader offering a unique set of industrial safety, logistics, and turnaround management services in North America.
"Stellus has been a terrific partner to us over the years and we appreciate their support on this transaction," said Paul De Lisi, Partner at The CapStreet Group, adding, "We look forward to working with the team at Stellus as we continue to build Onpoint to be a leading provider of safety and logistics services."
Gavin Roseman, Managing Director at Stellus, added, "We are excited to partner with CapStreet and HCI on the transaction and look forward to working with Liz Clark and the rest of the Onpoint and Certified Safety teams. We believe the Company's leading market position, broad service offering, experienced management team, and favorable industry tailwinds position the combined business well for continued success."
For inquiries related to this Press Release, please contact:
Gavin Roseman
(713) 292-5421
groseman@stelluscapital.com