Back to News
Stellus Capital Management, LLC Provides Unitranche Financing to Support the Add-On Acquisition of Tiempo Development by 3Pillar Global
Dec 21, 2020
Houston – TX, December 21, 2020 – Stellus Capital Management, LLC ("Stellus") announced today that its affiliates provided senior debt financing in support of 3Pillar Global's ("3Pillar" or the "Company") acquisition of Tiempo Development ("Tiempo"), an Arizona-based software development firm. 3Pillar is a portfolio company of CIP Capital ("CIP").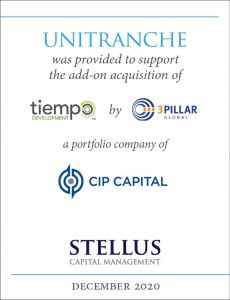 Based in Fairfax, VA, 3Pillar is an outsourced provider of software product development and design services for customer-facing, revenue generating applications. The Company provides "Product Development as a Service" to industry leading enterprise logos including Carfax, Fortune, and PBS. Leveraging a lean and agile approach, 3Pillar delivers value-generating, digital solutions with specialized product strategy and management, user experience design, as well as software and data engineering expertise across mobile, cloud, and disruptive technologies.
With three digital delivery centers across Mexico, the acquisition of Tiempo augments 3Pillar's global footprint and enables enhanced data science, analytics, IoT, and cloud services. Tiempo's more than 400 software engineers, product developers and innovation strategists bring a proven track record of delivering high performance digital solutions and agile outcomes for their clients. 3Pillar's newly expanded global workforce will now exceed 1,600 team members across 5 countries.
"We appreciated Stellus' ability to work swiftly and efficiently in support of a successful transaction process," said Mike Grady, Principal at CIP Capital, adding, "We look forward to continuing our partnership with the Stellus team as we grow the 3Pillar platform."
Doug Bollermann, Managing Director at Stellus, added, "We are excited to partner with CIP on another transaction and are looking forward to working with the 3Pillar and Tiempo teams. We believe the Company's unique offering, delivery expertise, experienced management team, and supportive financial sponsor position 3Pillar well to continue to achieve its goals."
For inquiries related to this Press Release, please contact:
Doug Bollermann
(704) 409-3335
dbollermann@stelluscapital.com