Back to News
Stellus Provides Financing in Support of Summit Park's Acquisition of Curion.
Aug 26, 2022
Houston, TX – August 26, 2022 – Stellus Capital Management, LLC ("Stellus") announced today that its affiliates provided senior debt financing and an equity co-investment in support of Summit Park's acquisition of Curion Holdings, LLC ("Curion" or the "Company").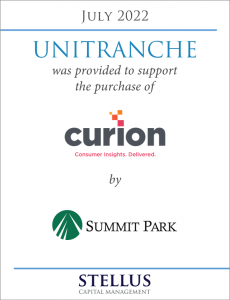 Curion is a leading, full-service provider of product testing and consumer quantitative and qualitative insights research which enable brands across a variety of end-markets to understand their target audiences and determine consumer sentiment of product qualities. The Company's holistic capabilities, established over its 30-year history, support clients through the entire product development process, including market validation, acceptance testing, product optimization, and benchmarking and category reviews.
"We are excited to partner with the Curion team and appreciated Stellus' ability to work quickly and efficiently to support the transaction," said Michael York, Partner at Summit Park, adding, "We look forward to continuing our partnership with the Stellus team as we grow the Curion platform."
Gavin Roseman, Managing Director at Stellus, added, "The Curion management team, led by Sean Bisceglia and Keren Novack, has transformed Curion into a leading consumer insights solution provider to premier brands across a range of end markets.  We look forward to supporting Summit Park and management as they pursue growth strategies."
For inquiries related to this Press Release, please contact:
Gavin Roseman
(713) 292-5421
groseman@stelluscapital.com