Back to News
Stellus Provides Financing in Support of Onclusive's Acquisition of Critical Mention.
May 31, 2022
Houston – TX, May 31, 2022 – Stellus Capital Management, LLC ("Stellus") announced today that its affiliates provided senior debt financing and an equity co-investment to support the acquisition of Critical Mention, Inc. ("Critical Mention") by Onclusive (the "Company"), a portfolio company of Symphony Technology Group ("STG").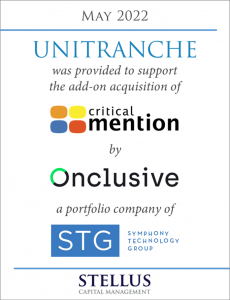 Onclusive, headquartered in London, UK, provides industry-leading media monitoring, measurement, and workflow management solutions for public relations and communications. The Company was formed in 2022 after merging Kantar's Reputation Intelligence businesses with Onclusive, Inc. and PRgloo Ltd. and rebranding the platform "Onclusive". The acquisition of Critical Mention, a media monitoring suite that provides real-time search, monitoring, and results of audio and visual streams, will expand the Company's capabilities and geographic scale as a market leader in the U.S.
J.T. Treadwell, Managing Director at STG, said, "Critical Mention is a very strong addition to our new platform Onclusive, giving us a U.S. based operation of scale, accretive cloud-based monitoring technologies, and a high quality team that will enhance our solutions and help drive our growth, both in the US and globally.   Stellus was a constructive partner to this highly accretive acquisition, ramping up quickly on our platform strategy and providing a flexible capital solution to support Onclusive's future growth."
Adam Pollock, Managing Director at Stellus, added, "We appreciate the opportunity to partner with STG and support its investment in Onclusive. Critical Mention will bolster its positioning within the global media intelligence industry in supporting clients with real-time insights, technology, and expertise under one platform."
For inquiries related to this Press Release, please contact:
Adam Pollock
(713) 292-5407
apollock@stelluscapital.com