Back to News
Stellus Capital Management, LLC Provides Unitranche Financing in Support of Gauge Capital's Acquisition of Craftable
Aug 01, 2023
Houston, TX – August 1, 2023 – Stellus Capital Management, LLC ("Stellus") announced today that its affiliates provided senior debt financing in support of Gauge Capital's ("Gauge") partnership with Craftable, a leading hospitality-focused SaaS platform that provides back-of-house automation and management to the hospitality, food, beverage, and entertainment industries.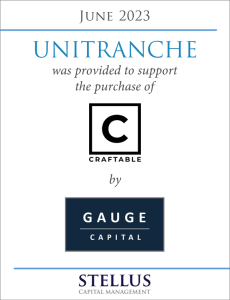 Founded in 2015, Craftable's innovative technology solutions equip restaurant, bar, hotel, and hospitality business operators with intuitive and easy-to-use tools that can help them make strategic decisions based on real-time data to drive sales and reduce costs. Its leading hospitality management SaaS platform allows for seamless back-of-house automation and management. By providing operators with procurement, inventory tracking, recipe cost management, accounts payable automation, scheduling, and analytics solutions, they can use this critical data to boost revenue while successfully lowering pour costs by 3-5% and food costs by 2-3%. Craftable serves thousands of hospitality industry operators and partners with some of the most prominent names in hospitality.
"We appreciate Stellus' support of the transaction and their ability to work swiftly to provide a flexible financing structure that enables us to capitalize on growth opportunities and further enhance Craftable's position at the forefront of cutting-edge technology shaping the hospitality industry," said Garrett Fair, Principal at Gauge.
Gavin Roseman, Managing Director at Stellus, added, "We are excited to partner with Gauge on another transaction and look forward to working with Samuel Zats and the entire Craftable management team. The Craftable team has created a leading hospitality SaaS platform with significant growth opportunities. The partnership with Gauge will provide the team with additional resources and support to accelerate growth."
For inquiries related to this Press Release, please contact:
Gavin Roseman
(713) 292-5421
groseman@stelluscapital.com