Back to News
Stellus Provides Financing in Support of Bansk Group's Acquisition of amika and Eva NYC.
Jul 26, 2022
Houston, TX – July 26, 2022 – Stellus Capital Management, LLC ("Stellus") announced today that its affiliates provided senior debt financing and an equity co-investment in support of Bansk Group's ("Bansk") acquisition of amika and Eva NYC, two of the fastest-growing scaled independent haircare brands in the U.S.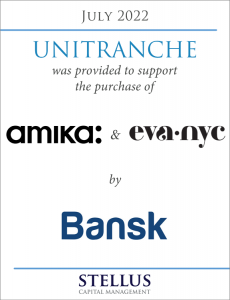 Founded in 2009, amika is one of the largest independent haircare brands in the U.S. and the only one of scale at the intersection of professional, prestige, and digital channels. amika's high-quality, innovative, and responsible products cater to all hair types, textures, and styles, and its brand and artistic culture are defined by an inclusive ethos that has built a passionate and diverse community of loyal consumers and salon professionals.
Founded in 2012, Eva NYC has become one of the fastest growing masstige haircare brands in the U.S. The brand is committed to delivering high-quality products with proven results at accessible price points and is the only masstige brand with an aluminum packaging portfolio that is 100 percent recyclable, certified cruelty-free, vegan, non-GMO, and free of harmful ingredients.
"We appreciate Stellus' ability to work quickly and efficiently in support of the transaction. We look forward to expanding our relationship with Stellus as we continue to accelerate the growth of these two distinctive brands," said Tim Stone, Vice President at Bansk.
Colin Baker, Managing Director at Stellus, added, "We are excited for the opportunity to partner with Bansk and the amika and Eva NYC teams. The two brands are positioned as industry leaders within their respective categories, which should be further enhanced through Bansk's ownership."
For inquiries related to this Press Release, please contact:
Colin Baker
(713) 292-5411
cbaker@stelluscapital.com