Back to News
Stellus Provides Financing in Support of Abry Partners' Investment in Inoapps.
May 03, 2022
Houston – TX, May 3, 2022– Stellus Capital Management, LLC ("Stellus") announced today that its affiliates provided senior debt financing and an equity co-investment in support of Abry Partners' ("Abry") investment in Inoapps Ltd. ("Inoapps" or the "Company").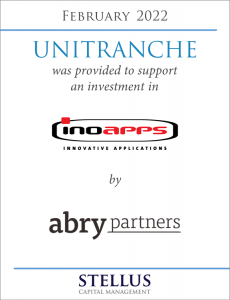 Inoapps, led by CEO Andy Bird, is an award-winning global Oracle partner with deep cloud expertise. The Company is trusted by its clients to deliver successful project outcomes using Oracle on-premises and cloud solutions and orchestrating people, processes, and technology for operational excellence and fast return on investments. Inoapps works across a number of vertical industries and has developed specialist centers in energy, engineering & construction, higher education, manufacturing, public sector, and business and financial services.
Nicolas Massard, Partner at Abry, commented that, "Building on our successful track record in the specialized consulting and managed services sectors, we are excited to team up with Andy, a successful entrepreneur who has built a fast growing practice around the Oracle ecosystem." Vidur Khatri, Vice President at Abry, added, "We appreciate Stellus' ability to work quickly and efficiently in support of the transaction, and we look forward to accelerating growth at Inoapps alongside the Company's management team."
Colin Baker, Managing Director at Stellus, added, "Inoapps has proven to be a global leader within the Oracle ecosystem, and we are excited to partner with Abry, Andy, and the Inoapps management team for the next phase of growth."
For inquiries related to this Press Release, please contact:
Colin Baker
(713) 292-5411
cbaker@stelluscapital.com